The Leading Graduate Program in Primatology and Wildlife Science (PWS) strives to realize global well-being. The program aims to foster individuals with the ability to make quick judgements about environmental issues and to design a future global society, while at the same time nurturing leaders indispensable for global action.
Japanese primatology has played a leading role in this unique academic endeavor. During recent years, the field of "Wildlife Science", which targets endangered species research, has begun to emerge. With fieldwork as its foundation, the fundamental aims of this field are a comprehensive understanding of the human mind, body, life and genome, as well as hands-on activities that target the well-being of the world.
While on the frontlines of academic research, wildlife science in Japan lacks three important careers that already exist in the West: (1) Conservation specialists with international organization, such as the United Nations and other NGOs; (2) Curators of museums, zoos, aquariums, and similar institutions, particularly those that can develop and/or expand museums or zoos as a "field museums" in a specific habitat; and (3) Dedicated individuals that invest great lengths of time in outreach activities in specific countries and societies, the so-called "boots-on-the-ground" approach.
While providing a foundation for new research, education and hands-on experience, this program aims to nurture global leaders whose accomplishments grow hand-in-hand with the larger academic field.
---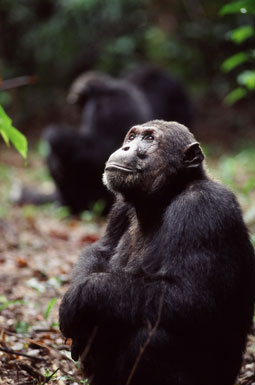 Conservation specialists of international organization(s) such as the United nations and NGO
---
Significant international contributions: Produce an individual that acquires expertise, high linguistic skills, and experience in fieldwork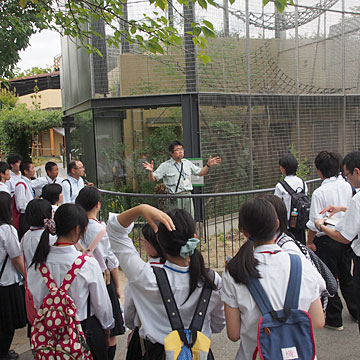 Curators of museums, zoos, aquariums, and the like, as well as one that can develop and/or expand a museum or zoo as a "field museum" in a specific habitat
---
A career path in specialized knowledge, demonstrating one's experiences, and contributing to society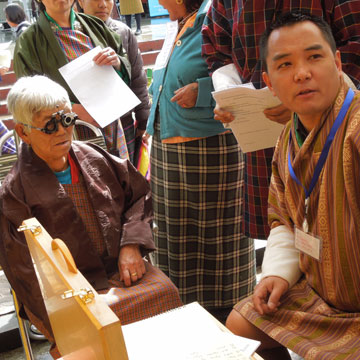 Outreach workers that invests a great length of time in outreach activities in a specific countries and societies
---
Expanding Kyoto University's tradition: Identifying the needs through on-site field of view; a leader who can propose significant contributions to Japan
---
In terms of studying nonhuman primates, Japan holds a unique position. There are no species of monkeys or apes native to either North America or Europe. In contrast, Japan has its own species of monkey; the Japanese macaque. Thus, in Japan, the discipline of Primatology grew out of a curiosity about this native monkey and benefitted enormously from its presence. The Primate Research Institute, the predecessor of the Center for the Evolutionary Origins of Human Behavior, was founded in 1967. Following an upsurge in research interest in primates, and other wildlife at primate field-sites, in 2008, Kyoto University founded a new research center called The 'Wildlife Research Center (WRC)'. The WRC focuses on flagship endangered species other than primates, such as lions, elephants, giraffes and dolphins. However, despite the growing research expertise in Japanese Primatology and Wildlife Science, there are distinct deficiencies in terms of applied research. There are very few wildlife conservationists working in the field, a shortage of zoo and aquarium curators, and insufficient young people with the skills and means to dedicate themselves to outreach programs in foreign countries. In short, Kyoto University has produced academic professionals, but, as yet, no vocation-oriented wildlife professionals. In response, on October 1st, 2013, Kyoto University started a new leading graduate program in "Primatology and Wildlife Science" (PWS). The aim of this exceptional and novel PWS leading program is to produce professionals in: conservation, welfare, and outreach development. To achieve this goal, the PWS Program focuses on education in wildlife conservation, animal welfare, and skills for outreach programs in particular countries. The target countries are those with biodiversity hotspots within Asia, Africa, Central and South America. PWS involves a unique curriculum; based predominantly on practical field work experience. Such fieldwork will take place: in areas of great Natural importance within Japan, such as Koshima Island, Yakushima Island, Ryukyu Islands and Myoko-Highland; and at important, long-running field sites abroad, such as Bossou, Mahale, Wamba, and Kalinzu. In addition, PWS provides the option to take laboratory courses in comparative cognitive science, animal behavior, ecology and sociology, genome science, etc. This innovative Program also offers invaluable opportunities to take part in internship programs at zoos and aquariums, and within UN-related organizations and NGOs under the MoU. In sum, PWS will provide a new generation of trained professionals to protect the environment by conserving wildlife, informing the public and developing overseas outreach.